On December 18, 2016, Healthy School Food Maryland released our first edition of the Maryland School Food Environment Grades, a report card on the state of school food in the 24 public school districts in Maryland.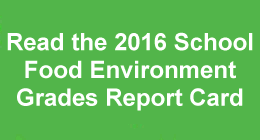 The grades are based on a rubric of 12 items with scores ranging from 0-4, which address parent and community concerns related to school food and wellness, such as reducing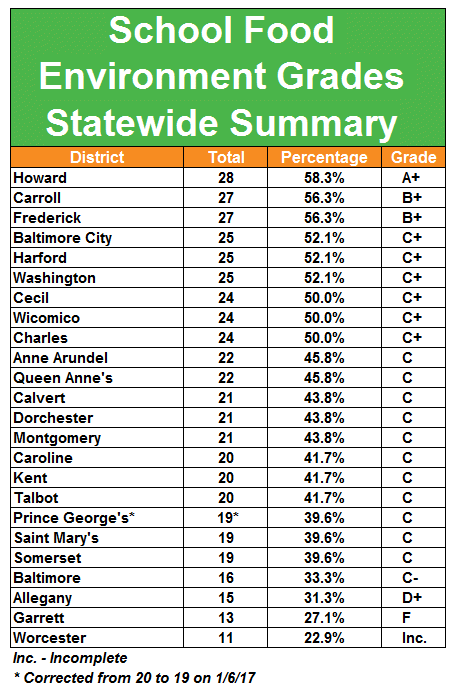 sugar; access to potable water; use of local produce and farm-to-school programs; salad bars; use of artificial colors, flavors and other chemical additives; scratch cooking; variety and repetition of meals; healthier vending options; transparency; wellness committees; and policies on junk food marketing. After meeting resistance from the Maryland School Nutrition Association, school boards around the state and the Maryland State Department of Education when trying to address these concerns in the state legislature, the coalition decided to pursue the route of grading the school food and wellness environments in hopes of moving the needle forward in school food service statewide.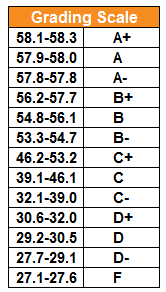 Top marks for 2016 on the rubric went to Howard County, the only district to receive an A+, followed by Frederick and Carroll Counties, who earned grades of B+. Letter grades were issued based on a normal bell curve, so the majority of the state's districts fell into the C and C+ range. Of the state's five largest school districts, three (Anne Arundel, Montgomery and Prince George's Counties), earned a grade of C, while Baltimore City earned a grade of C+ and Baltimore County, a grade of C-. While most of the items on the rubric are under the control of food services staff, other items are decided at a higher level. This includes rubric items about wellness committees or school health councils, their composition and transparency, and policies on junk food marketing included in district-wide wellness policies. See the complete scorecard with detail on rubric items (note that a corrected score card was issued on 1/6/17 - see previous version).

2016 Scorecard
Project Documentation (wellness policies, menus and other documents)
2017 Scorecard
You can support the work of Healthy School Food Maryland, including the continuation of the School Food Environment Grades project, through donations to the lead coalition partner, Real Food for Kids - Montgomery, which is fiscally sponsored by the non-profit Chesapeake Institute for Local Sustainable Food and Agriculture. You can donate via PayPal below or via check made out to "RFKM" and mailed to

Real Food for Kids - Montgomery
c/o Nonprofit Village
12320 Parklawn Dr.
Rockville, MD 20852