57-Point Increase in School Food Environment Grades' Second Year
May 8, 2018
On Healthy School Food Maryland's second release of our School Food Environment Grades for the 24 public school districts in Maryland, there was a 57-point increase in scores statewide, even with four rubric categories becoming more strict (and two less strict/changed). Top marks this year on the rubric again went to Howard County Public Schools,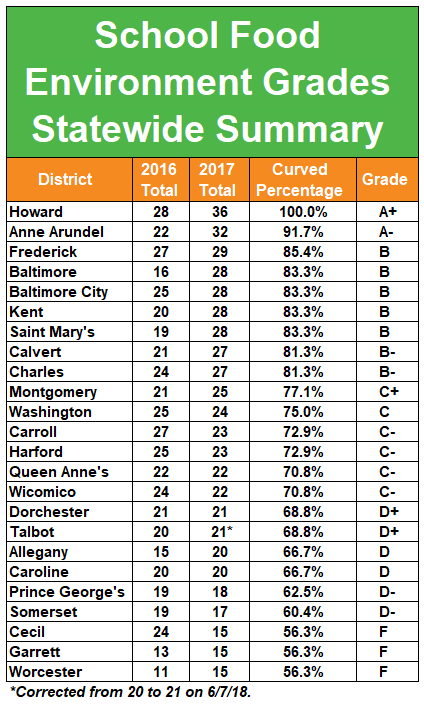 the only district to receive an A+ (which set the curve), followed by Anne Arundel County, which earned a grade of A-. Grades were curved by adding 25% to every school district's grade, to set the highest grade to 100%, then grades assigned using a traditional letter grade system (differing from last year's use of a normal bell curve). Grades for the state's remaining largest school districts were: Baltimore City and Baltimore County: B, Montgomery County: C+ and Prince George's County: D-.

The grades are based on a rubric of 12 items, with scores ranging from 0-4, which address parent and public health concerns related to school food and wellness, such as reducing sugar; access to potable water and water bottles; farm to school programs; salad bars and cut up fruit; use of artificial colors, flavors and other chemical additives; scratch cooking; variety and repetition of meals; healthier vending options; transparency; wellness committees; and policies on food and beverage marketing. In the rubric's second year, changes were made to several categories to better reflect these concerns.

The six rubric categories with significant changes were: Farm to School Programs, Scratch Cooking, Menu Variety and Repetition, Food and Beverage Marketing, Salad Bars and Wellness Committees. Changes and their impact on scores across the state are summarized below.
Farm to School Programs: milk was eliminated from total farm to school percentages; rubric level percentages were reduced; points for length of farm to school programming were eliminated (scores down 19 points)
Scratch Cooking: scratch cooking must apply to lunch entrées and not food overall; percentage of scratch-cooked entrées required to score a 4 decreased; percentages for scores 1-3 increased (scores up 14 points)
Menu Variety and Repetition: districts can't serve pizza more than twice a week in secondary schools and once a week in elementary schools, or French fries, hamburgers and hot dogs more than once a week at all levels to obtain a 4 (scores down 5 points)
Food and Beverage Marketing: prohibition of marketing of corporate brands (and not just marketing of specific food and beverage items) required for score of 3 or 4 (scores up 3 points)
Salad Bars and Cut Up Fruit: scores of 1 or 2 possible for cutting up apples and oranges served to elementary school children; percentages of schools with salad bars required at most rubric levels decreased (scores up 21 points)
Wellness Committees: committee must have the power to revise the wellness policy pending board/administration approval for score of 4 (scores up 5 points)
Other rubric areas with notable score increases since last year include Water and Water Bottles (up 13 points), A la Carte Transparency (up 9 points) and Chemicals (up 6 points).
While most of the items on the rubric are under the control of food services leadership, at least two rubric areas are decided at a higher level. This includes rubric items about wellness committees or school health councils, their composition, power and transparency; and policies on junk food marketing included in district-wide wellness policies, required under the Healthy, Hunger-free Kids Act of 2010 (HHFKA).



2017 Scorecard (note that a corrected score card was issued on 6/7/18 - see previous version).
Project Documentation (wellness policies, menus and other documents)
2016 Scorecard
2016 Summary Page
You can support the work of Healthy School Food Maryland, including the continuation of the School Food Environment Grades project, through donations to the lead coalition partner, Real Food for Kids - Montgomery, which is fiscally sponsored by the non-profit Chesapeake Institute for Local Sustainable Food and Agriculture. You can donate via PayPal below or via check made out to "RFKM" and mailed to

Real Food for Kids - Montgomery
c/o Nonprofit Village
12320 Parklawn Dr.
Rockville, MD 20852