School Food Environment Grades
Our primary project for 2017-2018 is a program to grade the school food in the 24
school districts in Maryland. The grades will be issued in late November or early December.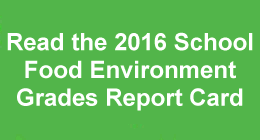 Our rubric includes grades on:
consistent access to potable water
use of local produce and farm-to-school programs
policies prohibiting artificial colors, flavors and other chemicals in school food
access to healthier vending options both during and outside of the school day
existence, transparency and power of district-level standing wellness committee or its equivalent
policies and practices to reduce sugar in school food
transparency about school foods
amount of scratch cooking
variety and repetition of meals and typical kid foods
policies about marketing of foods of minimal nutritional value in school
the existence and quality of salad bars.
The first set of grades were issued in December of 2016. In 2014-2015 and 2015-2016, Healthy School Food Maryland pursued statewide legislation related to school food. We are not currently pursuing legislation as we were hoping and have found that our School Food Environment Grades, which incorporate many of the concerns that we attempted to address via legislation, are helping improve school food and wellness environments statewide more quickly.

2015 - 2016 Legislative Agenda